Standing almost 65m in length and built in 1732, the Long Room of Trinity's Old Library is one of the most famous and impressive libraries in the world, visited by millions of tourists each year.
With its great barrel-vaulted ceiling and upper gallery bookcases stacked with 200,000 of the library's oldest books (including a free copy of every book published in Britain and Ireland), the Long Room is a feast for the senses.
Significantly, as well as books, the Long Room also houses an impressive collection of 40 marble busts that began in 1743, which includes great thinkers and writers of the western world, such as Plato, Aristotle and Shakespeare, and men with Trinity heritage, such as Jonathon Swift and Edmund Burke.
ADVERTISEMENT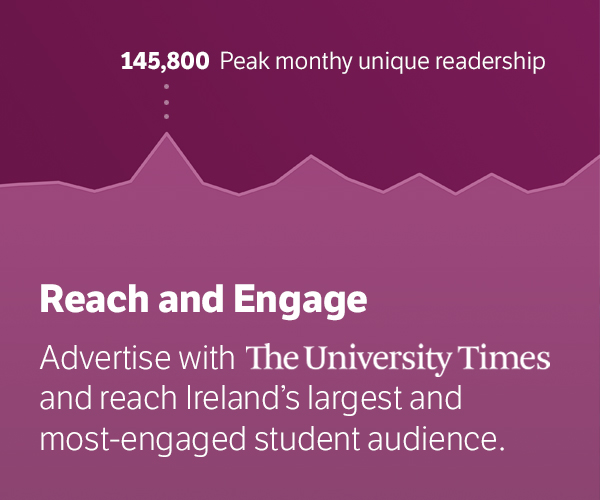 What has not changed since then however – and what is not so impressive – is its lack of female representation. Until now.
In late September, an email was sent to students and staff of College calling for nominations for the first female scholar to be commemorated in the Long Room of the Old Library. Provost Patrick Pendregast wrote: "Trinity's public spaces should be more representative of our diversity."
The successful candidate will be chosen on December 1st by a small committee chaired by the Provost, the college librarian, the registrar and other members of the College community, with the subjects needing to be deceased scholars (but not necessarily Trinity graduates) and with no restriction on nationality.
Where are the people of colour or working-class representation around College? It just seems elementary
The announcement of the initiative made national headlines, but considering Trinity's male-dominated past, perhaps this is unsurprising.
Founded in 1592 – ironically, by one of the most powerful women in the world at the time, Queen Elizabeth I of England – Trinity shut its doors on women for more than 300 years, viewing them as "a danger to the men". Despite such opposition to the higher education of women, Trinity became the first of the historic universities of Britain and Ireland to admit women to its degrees in 1904.
Even then, however, women were not granted the same opportunities as their male counterparts. Ineligible for Schols or Fellowships and prohibited from dining at Commons in the Dining Hall, female students and academics faced much adversity both academically and socially in College.
Because women were banned from living on campus, Trinity Hall was founded in 1908 to accommodate female students. Equally, women were discriminated against in society life and were prohibited from joining many of the major societies. In fact, female students were only allowed to become members of the University Philosophical Society (the Phil) and the College Historical Society (the Hist) as recently as the late 1960s.
A century later, much has changed. Sixty per cent of the student body is now made up of female students, and the current chancellor is Mary McAleese, the former president of Ireland, who succeeded Ireland's first female president, Mary Robinson.
To say, then, that a female bust in the Old Library is more overdue than any book could ever be would be quite the understatement.
Helen Shenton, the College librarian and perhaps the most appropriate person to say this, as one of the selectors on the female busts committee, couldn't agree more.
Our literature shows us that visible role models are vital to challenge stereotypes and unconscious bias. If you can't see it, you can't be it
"At the time, it was quite fashionable to do such as Oxford." She said that commissioning male busts was a way in which colleges "tended to celebrate glories in their own college" but this was restricted to men and men only. However, times have evolved, she says, and in an internationally renowned world heritage site such as Trinity's Old Library, so too must the establishment.
Discussing the thought process behind the initiative, she says it has been something that has been bubbling beneath the surface for quite some time. In fact, she goes as far as to credit, remarkably, Duchess Megan Markle for lifting the lid on the issue. On her visit to Trinity in July 2018, Shenton tells me how the Duchess noticed the lack of female representation in the Long Room, and Prendergast was quick to assure her College would change it.
"This was just straightforward or rather, 'in your face' – 40 busts and no women – a pretty simple situation", Shenton says. Commenting on how the committee has received a lot of interest for the campaign, she says she is "dying to read all the suggestions" and is adamant that "even though it's just a start, it's an interesting start".
While it may be "just a start", some remain critical of the campaign, questioning whether College is going far enough in honouring and recognising the many formidable women who have graced Trinity's Front Square and academia as a whole.
Órlaith Hennessy, the chairperson of Dublin University Gender Equality Society (DUGES), is one such critic.
Although she acknowledges that it might be a step in the right direction, ultimately, she argues, College and its campaign is not doing enough for the women's cause. "What they are trying to do is obviously positive, especially within academia and STEM where women often don't get the recognition they deserve – such as Mary Shelley who invented sci-fi – but it is not the most they could be doing", she said.
"Where are the people of colour or working-class representation around College? It just seems elementary and a bit like we're making a female bust in the public interest, for the tourists' benefit."
Hennessey is not alone in this critique. Others have questioned the sincerity of the campaign, with author Sheila O' Flanagan on Twitter expressing her disbelief that only one female is joining the 40 men. More recently, according to TheJournal.ie, even Trinity staff had concerns when the campaign was first being discussed, with one member of staff asking: "Should we admit this is a gesture and we know including one or two isn't exactly going to right the wrongs of history?"
While it does not amount to rewriting history, initiatives such as this are nevertheless hugely important for confronting the prevailing gendered culture in academia and public life head-on – so although it may be a small step, it is a necessary one.
The fact that they are all completely men – and while they are still significant – it's just disproportionate as there are just as many influential women
So argues professor Ivana Bacik, a women's rights activist and an associate professor of law at Trinity, particularly where "those persons depicted in portraits, in texts and in power are predominantly men". Defending the initiative, she argues that visible female representation goes a long way in raising women's profiles. She says: "Our literature shows us that visible role models are vital to challenge stereotypes and unconscious bias. If you can't see it, you can't be it."
Bacik suggests numerous women deserving of recognition, echoing the many candidates who have already been publicly highlighted as worthy of selection, including Simone De Beauvoir, Constance Markievicz, Marie Curie and Florence Nightingale.
Recognising world-renowned women such as these would seem like the obvious thing to do, but what about the equally inspiring and influential women who have been erased from history, many of which have shaped our world today but remain largely unknown?
Finn Jaksland, the personal relations officer of Dublin University Computer Science Society (DUCSS), took matters into his own hands to ensure this didn't happen to one of the most heroic figures within computer science, Ada Lovelace, by launching a campaign that has gone viral across campus to see her commemorated with a bust in Trinity's Long Room.
Lovelace, a British mathematician and writer in the 19th century, is considered to be one of the world's first computer programmers, yet few of us have ever heard of her.
Speaking to The University Times, Jaksland says Lovelace deserves a lot more recognition for what she did and sees the campaign as an important opportunity to not only praise her work, but also to encourage more young girls and women to enter STEM. He says: "I guess with STEM in general it's really disproportionate as there are a lot of men and we know from studies that women tend to have as much interest in maths from an early age as men do, but for whatever reason they get discouraged as they go on." He hopes, then, by bringing recognition to significant women in those fields such as Lovelace, that Trinity will be able to "encourage younger people to go into those fields".
He adds: "Even if Ada doesn't get in, it's definitely a positive change. The fact that they are all completely men – and while they are still significant – it's just disproportionate as there are just as many influential women."
Undoubtedly, narrowing down the countless influential women throughout history to just one will certainly prove a challenge. While the initiative has drawn its fair share of criticism, it is, as Shenton says, a start, and it is a significant one for Trinity in finally honouring the women who have contributed not just to academia, but also to wider society.
Indeed, who knew that more than 100 years after Trinity's former anti-female rights Provost George Salmon uttered those famous words – "over my dead body will women enter this College" – we would see them become part of the world-famous collection of Long Room busts?