After a turbulent year for the Graduate Students' Union (GSU), incumbent president Gisèle Scanlon has thrown her hat in the ring again, running against former member of the GSU executive John Tighe for the union's presidency.
Tighe, a PhD candidate in medieval history, has previously served as GSU Chair of the Electoral Commission (EC) last year.
Scanlon, meanwhile, is vying to remain as a sabbatical officer for a third year in a row – having previously served as vice president.
ADVERTISEMENT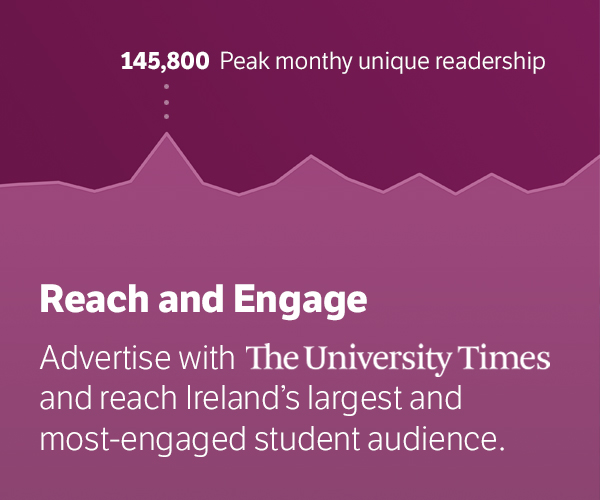 In his interview with this newspaper, Tighe says of his decision to run: "I feel like I don't have a choice. It's not a choice. I'm not doing this for the sake of my health. I'm a GSU man through and through. I do not care what people think of me. I will make the decisions that are in the best interest of the members of the GSU and be damned everybody else."
This is not his first foray into student electoral politics. In 2012, while pursuing an undergraduate degree in ancient history and archaeology, Tighe unsuccessfully ran for president of Trinity College Dublin Students' Union (TCDSU). His campaign was based on radical changes to the class representative system and a "repoliticisation" of the union.
This year the GSU ran a divisive motion to divest itself from TCDSU – something Tighe expresses confusion about. "College views the GSU as the representative of grads and SU as representative of undergrads. The SU helps the GSU a lot because it has more resources, and the GSU has limited resources so we need to use those resources efficiently." Tighe has, instead, pledged to strengthen ties with the union again, in sharp contrast to his opponent.
Dublin's housing crisis and extortionate rental prices are clearly an important issue for postgraduate students. If elected, Tighe said he will encourage all members to join their local Community Action Tenants Union (CATU) and will have landlord's sign tenants up with the Residents Tenancy Board (RTB) "as a minimum".
On inclusion and diversity, Tighe has made several promises. "I intend to create, not focus groups, but forums for minorities and minority groups to have their say, and to infer policy within the GSU", he said.
With the GSU based in House Six, its inaccessibility "is definitely something to be looked at" according to Tighe, yet he did not provide concrete plans of how this can be achieved if he were elected. He adds that the issue is a "tricky" one due to the building's listed status.
Speaking about the opportunities that can be brought to bear as the College emerges from the pandemic, Tighe says: "We need to rebuild that sense of community after COVID because it has been a tough year for everybody, and we need policy in place that will facilitate both online and in person events."
Providing such opportunities is a priority for Tighe. He mentioned his hopes of appointing an online engagement officer and also notes his aim of getting the Trinity Postgraduate Review, a research journal for Trinity postgraduate students, up and running again.
"We are a community of researchers and it is great practice to have your work published and to go through the peer review process", he said, adding that it is a good opportunity to socialise and network, which will be particularly useful in the aftermath of lockdown.
Tighe did not shine at the hustings, and at times did not fully elaborate on points, instead devoting much time to distancing himself from the shared rhetoric of his opponent and vice-presidential candidate Abhiswete Bhattacharjee.
Meanwhile, Scanlon – his opponent – is also a stalwart of the postgraduate scene. In 2019, the three-time master's student ran for the vice presidency on a joint ticket with presidential candidate, Shaz Oye, winning with nearly 82 per cent of the vote.
Scanlon did not respond to this newspaper's numerous requests for an interview. However, she attended Friday night's hustings where she faced pointed questions about her actions as president this year.
Elected to the role of president of the GSU in 2020, Scanlon won 85 per cent of the vote in an online election that saw a record turnout with over 670 postgraduate students participating.
Running on a platform centred on her "I CARE" (Innovation, Community, Accessibility, Research and Enterprise) mantra, Scanlon's website notes her support to postgraduate students throughout her time in the GSU.
Scanlon has zeroed in on local issues as her main achievements thus far: from getting free hot water in the 1937 Reading Room to ensuring that postgraduate students have access to the TriniScreen programme. She also points to the postgraduate students working as supervisors in the student spaces as evidence of her bringing jobs on to campus.
In an interview with The University Times prior to last year's elections, Scanlon advocated for a more caring union. On research she showed ambition, advocating for more "frontier" research and "research for research's sake".
"Academia is in this sort of unspoken battle with industry, and it is an 'us' and a 'them'. I want a stronger focus on higher education and research and research support", she told this newspaper.
She also spoke about postgraduate students entering the workforce post-pandemic – a particularly pertinent issue now.
"I suppose we have to look at alternatives that are satisfying and offer a satisfactory solution to somebody who has spent four or five, sometimes six, years of their life on a single piece of research. Not everyone is going to get an academic job."
"It could be good to have any other opportunities that might broaden someone's horizons flagged, in terms of other career paths."
Her manifesto was heavy on commitments and showed a depth of policy knowledge. However, after decisively winning the election, her presidency hit the rocks and has lurched from controversy to controversy – culminating in impeachment processes being brought against her.
She has also clashed repeatedly with the TCD Postgraduate Workers' Alliance, an influential postgraduate lobbying group in Trinity that has now endorsed Tighe. The clashes centred around a survey that the two groups collaborated on.
When Scanlon refused to hand over the results of the survey for legal reasons, the group was outraged. Eventually, she did release the results, but the rift between her and the group has only widened over time.
Aside from this, Scanlon's presidency has been rife with controversy, peaking at an EGM in April where the union's voting process was called into question by members.
The amendments that were passed during the meeting included a major overhaul of the constitution.
However, multiple members at the meeting called the validity of the votes into question, since there was no verification process to ensure that those voting with the link provided were actually GSU members and the meeting was rife with constitutional breaches and amendments supposedly passing despite not getting the requisite number of votes.
Scanlon is also facing a vote of no confidence after a petition calling for her removal was circulated. The Trinity Postgraduate Workers' Alliance has said the 60 signatures constitutionally required to trigger a vote have been collected. However, a vote has not been called.
When questioned at hustings about the delay in her impeachment proceedings, Scanlon diverted attention to the GSU Board, stating that further actions on the topic were tied to the deliberations of the Board. However there is no constitutional basis for this assertion.
Voting opened today and will close on Friday. Results will be announced on Saturday. Whichever way it goes, it is clear that this election is one of the most momentous in the union's history.