Ali Kelly and Aisling Byrne look set to finally bring a sense of realism and practicality to ethical student fashion with their promising new start-up Nu.
Although Nu is still in the "labour of love" phase, there is no denying its viability as a business model and its promising future. Their start-up, which came into fruition at the beginning of this summer, has its first event soon approaching. Nu is an ethical fashion community that focuses on raising awareness and creating a consciously ethical lifestyle for fashion enthusiasts. Despite many critics frequently highlighting the atrocious working conditions of garment workers behind the collections of numerous prominent high street stores, very few offer an alternative, especially for those on a student budget. Kelly and Byrne saw this gap in the market and decided to offer an alternative. Their business plan will involve on and offline forums for shoppers to share, swap, steal as well as rent clothes, all at affordable prices. Further down the line, when the ethical brand has built up a following, the girls hope to launch an online app. The app will allow users to upload images of items and swap and share their wardrobes with their friends and the Nu community. Kelly and Byrne also hope to continually invest in ethical designer pieces, from brands such as Reformation, to give Nu subscribers a chance to rent ethical garments that may have been too expensive previously.
"We're not all going to wear hemp t-shirts and live in the woods", they said speaking to The University Times. Kelly and Byrne are determined to make contemporary ethical fashion accessible to Irish students. They understand the importance placed on the desirability of the pieces they will feature in order to truly compete with the continuous nature of fast-fashion. Indeed, Nu's fresh and style-centric approach to sustainable fashion takes into account the ever-changing trends of today. Rather than building a market based on guilt, Nu will have wearable, ethical clothes for all tastes. This unique feature of Nu is what sets it apart from other ethically conscious companies. During my interview with Kelly, her goal of developing ethical clothing from a niche to the mainstream was clear throughout and with the strong business plan of her and her partner, Byrne, this goal seems easily attainable.
ADVERTISEMENT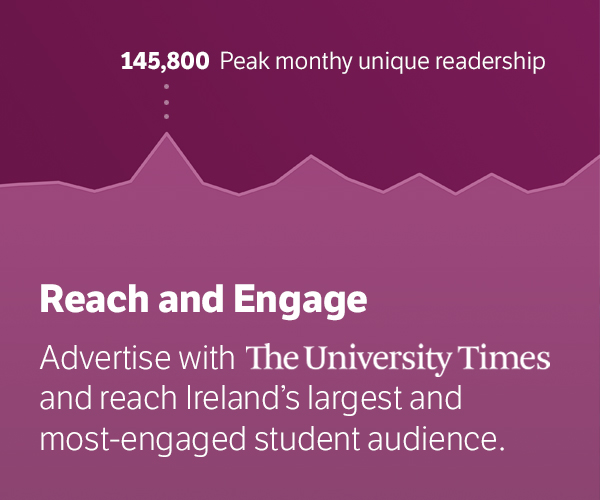 As both Kelly and Byrne hope to market their brand as a lifestyle rather than just a platform for ethical clothing, they take the design process very serious. Their minimal yet powerful logo was designed by talented DIT student Brian McRory and reflects the brand's clean aesthetic and strong direction. Their attention to detail will be truly visible throughout their exciting launch night which took place in Workman's on November 22nd. There were customized Nu tote bags and Nu organic cotton tees for those who got down to the event early. The highly acclaimed documentary, The True Cost, was screened throughout the event as attendees engaged in the swap shops and upcycling stations that were present. Representatives from Oxfam were there helping to raise awareness of issues encountered by ethical fashion in today's world. Although the goal of the night was to raise awareness about the brand's intentions, a large social aspect still featured with top-class DJs creating a fun and energetic atmosphere as shoppers searched the wealth of goods on offer.
From the beginning of the business venture, Nu has continuously excelled and has continued to go from strength to strength. Just last week saw the company win silver at the Bank of Ireland start-up of the year competition. The idea, as well as Kelly and Byrne's entrepreneurship, was praised by judges throughout the interview process, where the girls presented their pitch as well as a three to five year business plan. The concept of Nu was also praised by Trinity Entrepreneurial Society and subsequently accepted into its incubator programme. This allowed Nu access to paid market research as well as one-on-one coaching and advice from Marco Herbst, co-founder of Jobs.ie.
Perhaps the reason for Nu's success has been its co-founders' passion for the cause and their desire for traceability when it comes to the line of production of fast-fashion. Ever since Kelly visited India as part of a SUAS programme, ethical clothing has been a subject close to her heart. As part of her trip she got the chance to meet a selection of garment workers who worked in a local factory. The seven hour talk, in which a man opened up about the arbitrary rules and regulations he faced during his daily work in the factory, included minimal pay rates and long hours which kept him and his colleagues locked into a cycle of poverty. Even though these problems may be taking place on the opposite side of the globe, both Byrne and Kelly stress the need for students to speak out. Although many of the high street brands may seem untouchable, they do indeed care, and would be greatly affected if students were to make even the smallest of changes to their interactions with such brands. Internet activism is also extremely effective in this digital age, with movements like the "Who Made My Clothes" campaign receiving extensive coverage in the past.
Especially with the urgency for a solution to the unethical practices of fast-fashion at the forefront in recent years, Nu has come just in time. Despite still being in its early stages, it is clear that Nu and its powerful message will be celebrated throughout the fashion circles of Dublin.