Handball is one of the four sports of the Gaelic Athletic Association (GAA). Yes, there are four: football, hurling, handball and rounders. Football and hurling are undeniably the golden children of the GAA family, the most successful offspring who can attract 80,000 ticket-purchasing spectators to Croke Park every summer.
Handball's place in the GAA family, however, is a little more obscure, perhaps the potential-filled but underappreciated younger child. Rounders meanwhile, although a fun sport on your summer holidays, is simply the forgotten and TLC-deprived child, as epitomised by the crudely outdated interface on the official GAA rounders website.
Handball though, the focus of our attention, is an unusual sport in that it is played in several different forms, or codes, which differ by the size of the court, the ball and the number of walls in play. In Ireland, there are four codes of handball: 40×20 foot, one-wall, 60×30 foot and hardball. While all codes differ, the primary aim of any handball match is – similar to the sport of squash – to make the ball hit the front wall and bounce twice before your opponent can return it.
ADVERTISEMENT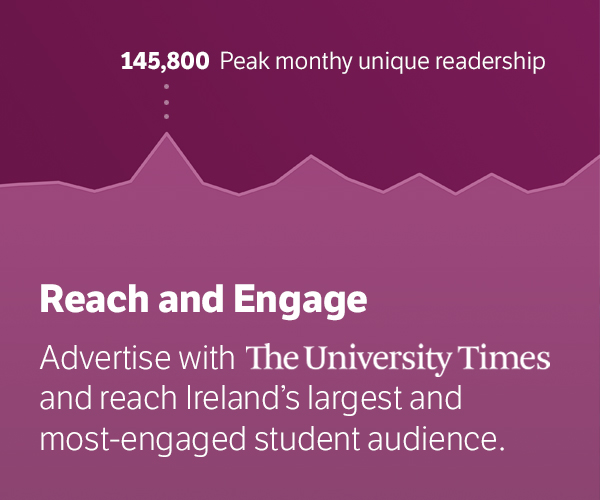 It can be hard to live in the shadow of the two more successful favourite siblings, but that being said, handball as a sport in Trinity is currently thriving.
Ciara Mahon, a Trinity handball sports scholar, and Lisa McKenna, the current club captain, are two players at the forefront of the Trinity Handball's transformation from faltering behind other sports in Trinity GAA to now flourishing in its own right. Both Mahon and McKenna were actually rivals at youth level, playing each other in competitions all throughout their childhood and teenage years, but now they are both one half to a formidable and internationally successful Trinity Handball doubles partnership.
It can be hard to live in the shadow of the two more successful favourite siblings, but that being said, handball as a sport in Trinity is currently thriving
"We still are rivals", McKenna jokes to The University Times. However, if the two are still rivals on the court – or rather the handball alley – the jovial aura of the interview suggests that, off of it, the opposite is the case.
Last month, Mahon and McKenna, final-year students in psychology and psychiatric nursing respectively, won four gold medals and both received player of the tournament awards at the US Handball Collegiate Championships in Arizona.
And that is only the latest in a string of successes for the club this year. In addition to that, this year Trinity have also picked up three medals at the 40×20 intervarsities, a silver in the men's one wall intervarsities, silver in the 40×20 doubles intervarsities and two golds and two silvers in the 60×30 intervarsities.
Not a bad haul for a club which McKenna tells The University Times "was [virtually] non-existent a few years ago".
When McKenna first joined the club she was the only woman member. Now, women actually outnumber men in Trinity Handbal, with McKenna and Mahon inarguably two of the central figures within the club.
While handball is one of the smaller sports clubs with about 15-20 active members, as a final-year student, McKenna admits it is still a lot of work to captain: "Because we are such a small club, it's usually you are trying to play and organise everything at the same time."
"It's a responsibility in itself I suppose, that you are trying to keep up your own standard, and trying to keep up everyone else's standard, and kind of motivating them, and then trying to organise everything."
With that responsibility and being in the final-year of a very demanding course, is there anytime for a student social life? Mahon, looking somewhat defeated, mouths the word "no" from across the table while McKenna simply laughs.
"It is challenging, but worth it. Definitely. For me, I found doing psychiatric nursing we are never on campus a whole lot so this is a great way to be on campus", McKenna explains.
When McKenna first joined the club she was the only woman member. Now, women actually outnumber men in Trinity Handbal, with McKenna and Mahon inarguably two of the central figures within the club
It is dedication such as this that has contributed to the club going from virtually "non-existent", as McKenna said, to extremely successful in the main three codes of the sport. But besides personal dedication to the club from its members, the construction of two one-walled courts at the top of the Sports Centre and the addition of a handball sports scholar this year have also hugely assisted the growth of the sport within Trinity.
"Having two courts on campus has given us great exposure. I think it has kept more people at the sport", Mahon details, paying tribute to the faith shown in the sport by Trinity Sport.
"Since they were built, people can come and they can play on campus, which is different to having to go and travel out to Santry. So that has boosted the numbers for us", McKenna says, echoing Mahon's sentiments.
While both Mahon and McKenna are full of praise for how Trinity Sport has enabled their sport to grow on campus, neither were too sure when asked whether handball is actually an official "focus sport", considering that it falls under GAA. According to Trinity's recently developed sport's strategy report entitled, "Raising Our Game", a "focus sport" is a sport "which will be developed to a standard where Trinity will challenge for honours in those sports, at varsity and national levels".
Obviously, this may seem like the vague goal for any sport or club in Trinity but officially there are only four Trinity Sport focus sports right now: GAA, hockey, rowing and rugby.
"We technically are", Mahon says, clearly rather unsure, when asked if Trinity's handball team comes under the focus sport umbrella as a part of Trinity's GAA team.
"Yeah, we have got support for it. Yeah. We are part of the focus sports groups though, aren't we?", Mahon looks at her doubles partner McKenna for confirmation but McKenna's answer of "I think so" sounds equally uncertain.
"Trinity have been very good to handball. I suppose it has come under that focus scheme, I presume it has", Mahon finally clears up.
The captain of Trinity GAA, Bryan Mallon, was able to confirm after the interview that as a part of Trinity GAA Trinity handball is in fact a focus sport.
Mahon also lists the fact that she is a sports scholar as another factor that has been "very helpful" to the club, enabling her to pass on to other members of the club what she learns in the "specialised strength and conditioning programme" for scholars. This is very welcome knowledge for the club's members, many of whom are self-reliant on planning their own gym and fitness work.
It's not like hurling where you need all the equipment. You literally need hands and a wall
The support for handball from Trinity shows no signs of slowing down either with handball facilities also set to be included in the 19-acre Iveagh Grounds which, according to The University Times, should be acquired by Trinity in the coming weeks.
While handball thrives in Trinity, it still lags behind the significantly larger GAA cash cows of football and hurling, and with handball coverage never really extending beyond the pages of the local newspapers, nationally, the sport still has a long way to go.
During the interview, both Mahon and McKenna describe handball as a criminally underrated sport and McKenna in particular believes it just needs that little extra push and promotion to reach out to a mass market.
"It has everything. It sounds stupid for someone who hasn't seen the sport. Someone described it as the perfect game. You have such skill on your left and right hand, you've all the shots, you've speed, agility, you need to be aware. It's a thinking sport as well because you are always trying to put your opponent on the back foot."
"Handball is a sport for anyone. I remember going down with my dad when I was four or five and trying to hit a handball – I still can't but I attempt to – and then you see 80-year old guys playing it and they'd beat you easily. It's just a game for life."
But with figures for players in Ireland in the low thousands, if not hundreds, the sport is still yet to engage the mainstream athlete. Mahon points out that if Trinity can make it work and grow the sport then so can the GAA.
"Most of our members had never played before, especially this year our new members hadn't even heard of it and they just picked it up like that", Mahon explains. "It's not like hurling where you need all the equipment. You literally need hands and a wall."
When asked whether they ever feel forgotten about within the GAA and whether or not enough is done to promote the sport, both Mahon and McKenna's faces wince as if in pain. They do admit that steps have been taken in the right direction and improvements to the GAA handball website, as well as the innovation of broadcasting matches live on Facebook, are both noted by Mahon and McKenna as useful methods currently being employed to promote the game.
For Mahon, one promotion tool is simple: "National TV."
"I would love to see it", she stresses.
"It's such an underrated sport", she says. "I've tried my hand at an awful lot of sports and I've never found one that has compared to it, it's just so skillful, so quick."
While handball still has a long way to go in grabbing the full attention of the nation, steps made by the GAA have already made a difference. But for an organisation that generated over €60 million last year, more needs to be done to promote the sport. If Trinity can substantially raise the stature of handball during a national higher-education funding crisis, then the increasingly affluent GAA can. And don't even get me started on poor old rounders.