Hundreds of students have gathered today to protest outside the Provost's House ahead of a meeting of Trinity's Finance Committee.
In Front Square, students shouted "Take Back Trinity". Trinity College Dublin Students' Union (TCDSU) President Kevin Keane led a large crowd to oppose College plans to introduce a €450 fee for supplemental exams.
Speaking to The University Times, Keane strongly condemned the fees calling them "another unacceptable disregard for students". He continued: "The Finance Committee is an unacceptable, unaccountable body of bureaucrats who are driving this university to the ground and it's no longer acceptable."
ADVERTISEMENT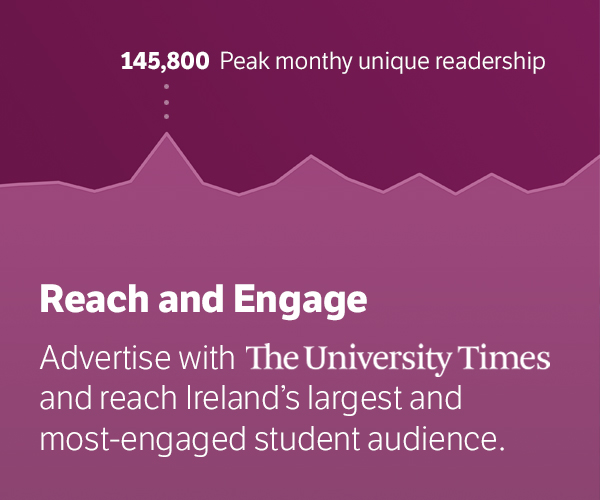 Candidate for President of Graduate Students' Union (GSU) Oisín Vince Coulter was also out leading the chants outside House One.
Present and leading chants too were TCDSU Disability Rights Officer Laura Beston, who campaigned against supplemental exam fees during February's preferendum and TCDSU President-Elect Shane De Ris. Speaking to The University Times, he emphasised the importance of the issue for his incoming administration, commenting that this was a "turning point…This is a movement, and it goes beyond this." He finished "we're not going to be taken for granted. We're going to be heard".
In recent days, TCDSU has condemned the introduction of the fees. At a heated and at times fraught meeting last night, students pledged radical action in response.
While Trinity has been the sight of anger, frustration and student demonstrations in recent years, the protest today is the most explicit example of student anger that has been provoked by College decisions in recent days to introduce supplemental fees for supplemental exams.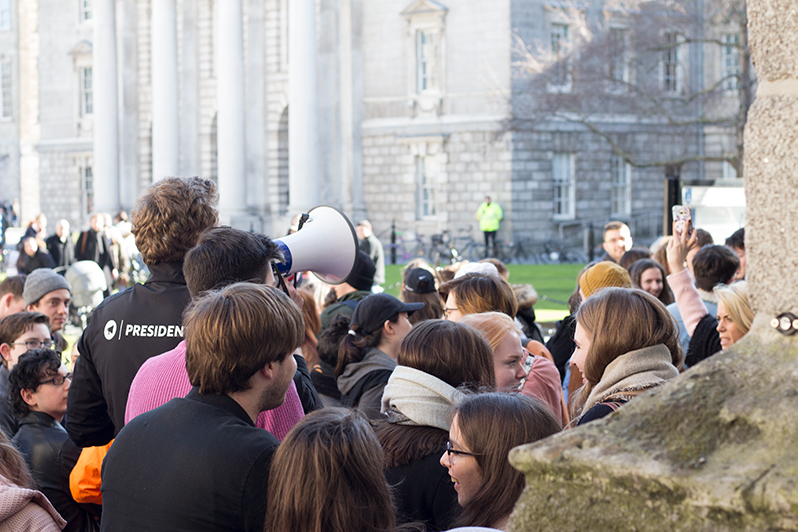 Today, The University Times also revealed that College plans for a significant increase in the cost of on-campus accommodation.
At today's meeting, Keane, who sits on Finance Committee, will challenge the minutes from the meeting of Finance Committee in December, which The University Times revealed yesterday noted that there was no formal dissent to plans to introduce supplemental fees.
After Keane left to join the meeting, the raucous protest continued, with chants of "fuck the fees".
In the past, Provost Patrick Prendergast has predicted that fees and commercialisation are the future of third-level education. In Front Square this afternoon, students disagreed – loudly and publicly.
It was only two years ago, when Vice-Provost Chris Morash addressed students to encourage them to march for education funding. Today, Morash – who has led the plans for supplemental fees – and Prendergast were the targets of student scorn, as slogans that have become familiar on marches and demonstrations over the years echoed across Front Square.
The union has been under pressure in recent days to take a hard and radical stance against Trinity. While commercialisation and funding cuts have become the norm in recent years, College's pushing through of supplemental fees – in the face of a large student opposition – appears to have touched a nerve.
This isn't the first time Trinity has tried to introduce such charges. Writing in The University Times, former TCDSU President Domhnall McGlacken-Byrne called the introduction of supplemental fees an "old-fashioned attempt to compel you and your classmates to foot an even larger portion of the bill for your higher education".
Today's demonstration is a rare show of force from students used to litigating concerns at College committee level. The demonstration today marks a low in College-student relations, despite the celebration of a historic partnership agreement, signed less than a year ago.
The demonstration today could act as a precursor to further action in Trinity. Last night, a range of more radical options were considered, with the Union of Students in Ireland offering support to Trinity students.
This isn't the first flashpoint between College and students this year. Postgraduate students and senior College officers clashed over a five per cent increase in fees. In response, senior College officers, including Chief Financial Officer Ian Mathews, told students Trinity's hands were tied. Those arguments, however, have not appeared to pass muster among a set of students frustrated by years of efficiencies and fees.